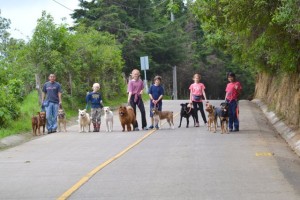 We welcome reliable, responsible, hard working and self-starting, animal loving volunteers either short or long term. Our rescue facility is located about 8 kilometres above Antigua on a paved road. There is no public transport to us, and the road is steep.  It is navigable by motorcycle or car. If you don't have transportation, we can provide transport from town for volunteers able to work a full day (8 AM to 4:30 or 5 PM) or a half day (8 AM to 12:30).  If you can give one day a week or more please contact us for more details. We can help you arrange accommodation in Antigua if needed.
Volunteering on site is hard work and you will get dirty. All the runs are cleaned every day, and there is lots of poop to scoop. The dogs are walked daily, and the terrain is steep. Bathing, grooming, medicating, training, and of course, lots of cuddling and playtime are daily tasks. You may be asked to run a load of laundry through the wash, stuff a bucketload of Kongs, hold a dog while blood is drawn, or wash the kitchen floor.
We teach volunteers how to clicker train and how to work with dogs with many different issues. Our full-time employee, Ronaldo oversees all tasks and guides all volunteers. You will work hard, but spend your days in a beautiful environment with some pretty wonderful animals and a great group of animal loving people.