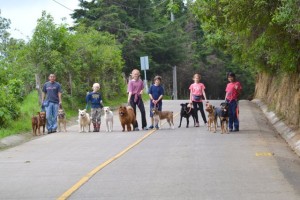 Our rescue facility is located about 8 kilometers above Antigua on a paved road. There is no public transport to us, and the road is steep.  It is navigable by motorcycle or car. If you don't have transportation, we can occasionally provide transport from town for a single volunteer able to work a full day (8:30 AM-4:30 or 5 PM).
We welcome experienced, reliable, responsible, hard working and self-starting animal loving volunteers at our facility who can commit to volunteering for two weeks or longer-preferably longer.
Can't do this? Check with us and if we  have puppies, we may be able to arrange for you to carry/walk a puppy in town with you to help socialize them and get them used to the sights and sounds of the busy world.
Volunteers who can work one full day are also needed at our monthly sterilization clinics in and around Antigua.
We teach longer term volunteers how to  train using positive reinforcement and clicker, and how to work with dogs with many different issues. Our full-time employee, Ronaldo oversees all tasks and guides all volunteers. You will work hard, but spend your days in a beautiful environment with some pretty wonderful animals and a great group of animal loving people.
**Although we would love to be able to welcome and attend short term volunteers, we are a very small facility with only one employee. There is a LOT to do each day to make sure that our dogs and cats are clean, cared for, exercised and get enrichment. Training new volunteers is time consuming and so we ask for a minimum commitment of two weeks, or at least one full day per week every week for local volunteers in the hopes of maximizing our volunteer experience and helping rather than slowing down Ronaldo.
 For these reasons we are also generally unable to host visitors who would like to visit for a few hours. Thank you for your understanding.
Can't volunteer? How about fostering? We always need individuals and families who can foster puppies and adults short term in Antigua or area. Foster homes help us "polish" our almost-ready dogs and pups and give them a taste of family life. This helps them fit into their new homes more easily. Foster families allow us to help far more animals than we could otherwise. Please contact us for details.