Flying a pet home from Guatemala is relatively easy, although not inexpensive. Several airlines accept pets as live cargo for an extra fee. Some allow small animals weighing under 20 pounds to fly in cabin in approved soft-sided carriers. There are temperature restrictions; pets may not fly in cargo if the temperature in the destination airport is above 84 degrees. Since most flights land in either Houston, Dallas, or Miami, this precludes flying animals as cargo during the summer months with many airlines, the exception of United and Delta.
Individual airlines have different price structures for flying animals as live baggage accompanied by the passenger (when temperatures permit). Cost is usually between $150 and $200 for in-cabin small pets or pets traveling as live baggage.
Both Delta and United have a dedicated live animal transport service available year round, with temperature controlled  areas and vehicles to ensure your pet's safety. We use United PetSafe to ship all our dogs, and they do an excellent job for us. Click here to link to their transport and shipping information page.  For Canada and the US, there is no quarantine period. Sending animals to Europe is possible, but requires microchipping and more paperwork, is more expensive, and is a more lengthy process. Please check with your veterinarian for the steps necessary for this.
If you are here in Guatemala and would like to adopt a dog or cat, or take an animal you have rescued home with you, the following information should help guide you through the process. What you will need follows:
A health certificate from a licensed veterinarian stating that the dog has been vaccinated against rabies within the last year, and more than 30 days prior to flying. Puppies under 4 months of age may not be sent to the US. Minimum age for rabies vaccination is 12 weeks (3 months), so pups under 16 weeks may not fly. Cats have different vaccination requirements. Please check with your veterinarian in Guatemala.
The veterinarian's health certificate must be dated within ten days of your flight. It must have  MAGA stamps affixed. The college of veterinarians recently increased the number of stamps required from one Q50 stamp to nine, so the stamps alone now cost Q450 per health certificate. The vet should have these stamps. Prices for the certificate vary with each veterinarian. Most charge between Q350 and Q500 for the certificate, in addition to the required stamps. You will need to have the certificate translated  into English for the US Customs Broker if flying with Pet Safe.
If you are traveling with more than one animal, you will need one health certificate per animal.
The certificate must be sent to the government agency MAGA which issues an official export certificate. There is a fee for this, and more stamps are affixed. We use a "tramitador" or facilitator to do this step, as it entails waiting in long lines in Guatemala City and two trips on two different days. There are many tramitadores. We use Jose Caal, who can be contacted at: josesitocaal@gmail.com.  Count on three working days for your certificate go go in and be returned. United requires this certificate to be dated within ten days (total) of the dog's flight.
When you know your travel date, contact United PetSafe to book your reservation. In Guatemala, the contact is Anibal Villatoro. He will explain the airline requirements and request your booking. PetSafe operates Monday through Friday out of Guatemala. Anibal can also guide you through the check-in process at the COMBEX. Anibal's  contact is: avillatoro@interexpresso.com
Animals are checked in with United in the Bonded Custom Warehouse (COMBEX) at the back of the airport and do not enter the main terminal. When entering this secured area you will need to present your driver's license and passport. You now also need to wear a reflective vest (these are available at COMBEX for about $3.00, or you can take one from a dollar store.
Documents that you will need to have for United are: the MAGA export permit and original health certificate in Spanish, the English translation of your health certificate, the original shot record for you pet with vaccine stickers affixed, and three photocopies of it, a photocopy  of your passport or DPI, a copy of the driver's license of the consignee, and a Power of Attorney from the consignee authorizing a broker to clear your pet through Customs in Houston.
Cost to fly your pet depends on weight. It generally runs about $600 to $800 to send an animal with United PetSafe, including brokerage fees and service costs. Anibal can give you an approximate cost if you tell him your pet's weight. The shipping charge is the same to anywhere in the US and Canada. Shipping charges are due at check in and can be paid with a credit card. Paperwork costs, and the cost of an airline approved kennel are over and above this rough estimate.
Many veterinarians and pet shops sell airline approved kennels. We recommend a supplier called Dog City for kennels at a good price. They can deliver kennels within Guatemala.
Kennels must have specific, approved food/water containers when flying with United PetSafe. Other airlines may have different requirements. The most recent information we have on approved containers is this: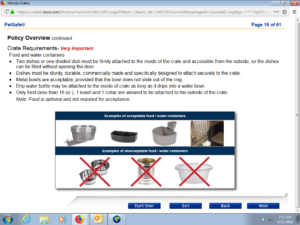 Please ensure that you buy a kennel of the correct size and type for your pet, or you risk United refusing to send your animal for safety reasons. United has provided a handy guide to sizing and type of crate for you.
We hope that this information is helpful to you and that you and your pet have a safe journey to your destination, wherever that may be.
Please note-We are a rescue and while we do fly many of our rescued animals to their adopters in the US and Canada, we cannot board the animal you rescue, transport, or handle logistics, shipping or paperwork for animals that others rescue.
If you have rescued an animal and need assistance with boarding it during the necessary dates between vaccination and shipping, or need help with the process, please contact Jesus Monterroso who is a licensed IPATA broker and animal shipper. His contact is: jrrm26@gmail.com
***We are providing this information as a service to help people get animals they rescue back home with them. This the most complete and correct information we have at this date (October 14, 2018). Please check carefully with your veterinarian, your tramitador, and your airline to ensure that you comply with all requirements to get your pet to your final destination. We are not responsible for errors or changes in policy or individual airline/country requirements.