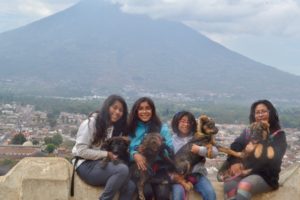 Guatemala United for Animals is a small animal welfare organization based in Antigua, Guatemala. Our main focus is the humane population control of companion animals. We offer low cost, high quality mobile spay and neuter clinics in the surrounding communities, run a TNR program, and an educational program focusing on responsible and humane treatment and care of animals.
We offer community and medical and sterilization support to other rescue groups and assist with emergency medical treatment for animals belonging to low-income individuals on a case by case basis. We offer heavily subsidized monthly mobile sterilization clinics in low-income communities, also sterilizing free-roaming animals in these areas.
Unidos para los Animales was founded in 2010 by Terry Kovick Biskovich and Linda Green, long term Antigua residents in response to the never-ending problem of sick, injured, and abandoned dogs and cats left to fend for themselves in the street. Both Terry and Linda had individually been picking up strays and rehabilitating and placing them for over twenty years. Feeling that they could accomplish much more by uniting and working together, they decided to join together and formalise their rescue efforts, forming a legal  non-profit association in Guatemala, a 501c3 in the US, and uniting to help support the other individuals and groups struggling to address the animal overpopulation and cruelty issues in Guatemala. Since incorporating in 2010, Unidos para los Animales has spayed and neutered more than eight thousand owned animals in partnership with our volunteer veterinarian Dr. Jim Bader and our local Guatemalan veterinary team.
In July of 2022 we decided to focus all our efforts on sterilization  programs and community education as we were forced to close our wonderful rehabilitation facility due to the ongoing CDC ban that has prevented us from sending adoptable animals to the US since the spring of 2021. Adoptions of average sized, mixed breed dogs in Guatemala are almost nil, and we had no outflow of adoptable dogs without the ability to place these wonderful animals abroad.  During the years we operated our rehabilitation facility, we rescued, rehabilitated, trained and placed over nine hundred dogs in loving homes.