Fostering an animal may well be one of the most rewarding things that you can do. It is an act of love and selflessness that aids animals in need. By fostering a dog or cat, kitten or puppy, you are giving that animal so much more than a roof over its head. Foster families give the animal a true family. For many, it is the first time that they have been part of a family. The information that a foster family gives us about their animal is far richer than what we could learn about them in a shelter situation. This information helps us make their perfect placement.
If you live in or near Antigua and are interested in fostering, please fill out our local Antigua foster application form.
(version en español).  This helps us match you with a dog that works for you, your lifestyle, work hours, and training abilities.
Responsibilities of the foster family vary with the needs of the animal(s). At times we  have dogs and cats that require short or long-term medical care.  We try to keep puppies and kittens out of the center, and fostering ensures that they get a good life foundation. Adult dogs who have been with us in training and rehabilitation all could use the extra polishing and practice of living in a real home.  And all our dogs love the extra amount of attention and love they receive while in foster.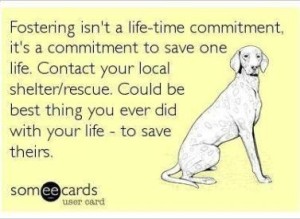 Fostering can be for a weekend, giving a dog a welcome vacation from the rescue and you a companion to go adventuring with or just cuddle on the sofa, it can be short-term (puppies and final polishing) or it can be permanent, if you are able to take in one of our sanctuary dogs and give it a loving home. In this case, Unidos para los Animales would continue to pay for the animal's medical care for life if our financial help is needed.
Some people become "foster failures", falling so deeply in love with the animal they are caring for that they can't give them up in adoption. While this can happen, we encourage foster families to allow us to place the animal they have so lovingly cared for, so that we can give you another animal in need. Fostering saves so many lives. It may well be the most important job of all in rescuing an animal.
If you feel you are in the position to help and are interested in becoming an Unidos para los Animales foster family or have any questions about fostering, send us a Facebook message: Unidos para los Animales, or send an e-mail to: unidosparalosanimales@gmail.com
We need San Francisco Bay Area fosters, too! Please let us know if you are interested in fostering one of our recently arrived dogs or puppies by contacting us at upaadoption@gmail.com.  We'll ask you to fill out our Bay Area foster application form, too, please.