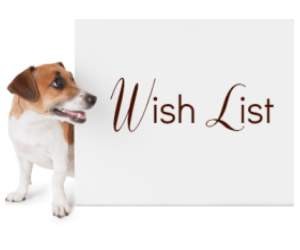 We are a very small, self-funded rescue group. Donations of almost anything are gratefully received. Some ideas for donations include:
Used or new travel crates.
Used blankets and towels.
Dog leashes, collars (especially puppy collars), Easy Walk Harnesses, Gentle Leader Head halters.
Dog and Cat Food – Kirkland Brand Premium Dog Food and Puppy Chow, and Kirkland Dry Cat Food,  any brand of canned cat food. For our street dog feeding program we are grateful for any brand of dog food.
Cat litter, cat toys, and cat treats.
Cream Cheese, peanut butter, hot dogs, dog treats for stuffing Kongs.
Durable dog toys, Kongs (preferably the black heavy duty style, large and X-large are the most needed), Bully sticks, pig's ears, chews, antlers, hooves in all sizes. Puppy toys, food puzzle toys.
De-wormers and topical flea control for cats and dogs. Pyrantel, Panacur, Drontal Plus, Advantage Multi, Advantage, Revolution, Vectra, etc.
Crate warmers for juvenile animals.
Building materials for site improvements and maintenance (renovating the cat area, paint for runs, concrete for sidewalks, paint, etc.).
Cleaning products (Bleach, mops, brooms, detergent, buckets). Paper towels, newspapers.
A clothes dryer.
A small used van or vehicle to transport our animals. (Okay, that was a big one, but we thought we'd throw it in just in case!)